By Retro Geeks. For Retro Geeks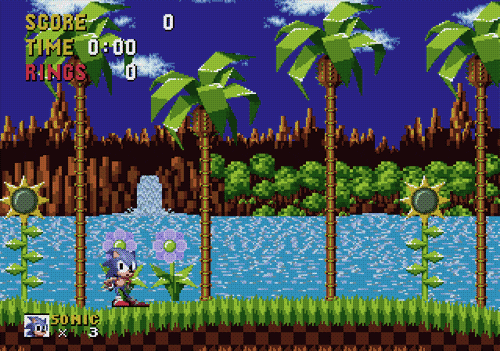 Name: Soviet Strike
Format: Saturn / PS1 (tested)
Genre: Shooter
Region Reviewed: NTSC
Year of Release: 1996
Reviewer: Miracleman
Tanks for the memories...
Landing permission denied eh?
Nice camouflage, but I still see you...
Verdict:- A game that proves that not everything turned 3D sucks. Great graphics, fun, awesome AI, constant action… Definitely a title that cannot be missed, so don't do it.
In fact why are you still reading this when you could be playing one of EA's best games ever? Run along now, there's a good boy or girl.
I promise you the level of presentation, execution of FMV intro's and mission background briefings are worth the cost of the game on it's own! BANG BANG!!
Second Opinion:- A metal thing that flies around & blows stuff up you say? Are you kidding me on this one RGG staff? How is this even up for debate for a review score. This is clearly a perfect game!
Ok maybe not perfect because if that was the case then I would have to surrender my crown as greatest shooter game of all time on a Sega system (and that will happen over my cold dead body!) This is however close, very close in fact.
Without doubt this was one of those games everyone got on with back in the day, it was a mindless shooter for those with zero skill and a real get everything for the fans of the original Desert Strike, which made everyone search the entire level map to make sure they had seen and done/rescued everything/everyone. It's also a perfect way to highlight the power of 32-bit consoles over the 16-Bit original home of this series because so much of this particular game could never have been done on a humble (yet awesome) Megadrive.
It's fair to say that like most PS1 games the graphics look a bit wobbly at times (anyone else notice this with the Playstation) but for 1996 this was amazing! And for this EA loving robot/spaceship is a fine example of how they did/do/always will utterly rock!
Play this now!
Transbot Scores:- 9 out of 10
PS1 Box... How screenshots should look!
I hate paying bridge tolls... FIRE!
Were you one of those who, just like me, loved to blow things up from an Apache helicopter while checking the fuel reserves and the amount of sidewinder missiles left in your cannons? Then, step in, 'cause I think you will really like this game. One of the most popular franchises during the 16-bit era, and a personal favourite, was the Strike saga. Starting with Desert strike and ending with Urban Strike the guys at the long forgotten Electronic Arts put you in the seat of an attack chopper to complete a series of missions in different parts of the world depending on the game.
The first instalment –Desert Strike - took you to the Middle East to end the reign of terror of a dictator who looked a lot like Sadam Hussein. The second game in the series is set in some jungle in South America, and yeah, you probably guessed what happens, you are supposed to stop a drug lord (yeah, allegedly all South Americans are drug dealers) who is aided by the son of the dictator you killed in the previous game, how about that for vengeance, huh? The last game of the series in the 16 bit days, Urban Strike, also allows you to command the co-pilot of the chopper during land missions. The oddest thing about this game is that when you get to the New York mission, Malone - the bad guy - to demonstrate his power, shoots a kind of satellite beam and demolishes the World Trade Centre. I forgot to mention that the game is set in 2001. Eerie, ain't it? Another example of how TV, films and games were way ahead of the prediction curve.
One day the 16 bit consoles were put aside by the companies and a new age began. Sony and Sega presented their new born sons: the Playstation and the Saturn and Electronic Arts decided to upgrade their Strike franchise, after the failure of Battletech, making use of the new technologies available. Enter Soviet Strike.
The game takes place in a fictional part of Russia. Eastern Europe and the Caspian sea right after the Soviet Union has been disintegrated and its people know the likes of Mc Donalds and other Western franchises that are supposed to mean "progress". Your main objective as a proud pilot of the Strike Force is to put an end to the plans of a new communist movement by finding and killing its leader, an ex-KGB general known only as the "Shadowman". What is this guy's goal? Well, he wants to re install the Soviet Union and expand it to the entire planet, what else? This very 90's plot is explained in a series of FMV videos you get to see before the different missions which provide the game with an extra touch of realism that helps to develop the story and immerse the player into it. They are also cheesey awesome so be prepared!
I've had bad experiences with classic franchises turning 3D (Earthworm Jim, anyone? Bubsy? – well, Bubsy was crap in 2D as well- ) but EA did the right thing with Soviet Strike; they just improved the graphics and added a total 3D environment instead of the fixed camera angle that was used previously. The game was originally intended for the Panasonic 3DO but the project was cancelled when the developers foresaw the inevitable fall of the console and turned to the Playstation. The 3D engine however, was property of the team responsible for Road Rash 3DO and used real satellite images of the terrain. As a result, the buildings, the mountains, the beaches and other bits of the landscape look totally detailed. What I personally don't like is the water effect, by that I mean, there isn't one. The water just stays there, still as frozen, which is something that didn't even happened in the 16 bit Strikes. I'm very fond of pixelated explosions, and this game did not let me down on that either, every little thing you turn to dust has perfect details, chunks of wall, vehicle parts, bridges, everything. To quote another classic game (Cannon Fodder) War has indeed never been so much fun!
The controls were made for those who are extremely picky about this particular aspect and probably the developers took in consideration the flaws of the previous games. For example, in the past it was near impossible to shoot while moving sideways, but in Soviet Strike you can do that smoothly using the shoulder buttons. It's almost orgasmic to be flying to the left and shoot a sidewinder that lands perfectly on that annoying AA gun that has taken so much energy from me. Even if it is your first time playing one of the Strike games, you won't have any problems whatsoever understanding the controls. The D pad allows you to control the direction of the Apache while each of the buttons shoots a different kind of weapon: sidewinder, hydras, chain guns and hellfire's. The Saturn version, released some time after the PS1 game, also supported the analog control, which only made things even better.
Music is mainly techno (God, why on Earth did developers not include more heavy metal tunes back in the day?) mixed with military rhythms, but – weird as it may sound – it'ss actually quite good and goes with the action and the pace of the game, sort of. If you happen to not like the music, you can turn it off, or turn it down as much as you like in game, which is a feature rarely seen and quite useful, especially when you are afraid of losing your hearing due to the crappy melodies some geniuses include. The FX are really top notch, starting from the constant whipping of the heli's blade to the thunderous explosions of the missiles when they reach their targets. The digitalized voices of the Co-pilot and other characters of the game are clear and sound incredibly good, enemy soldiers are prone to scream things like "I'm indestructible" in a Russian accent prior to receiving one of your missiles and be silenced forever, adding a slice of evil humour here and there.
Soviet Strike will take you through five campaigns, all themed. The game starts somewhere in Crimea, then it'll take you to the Black Sea, then you are off to the Caspian Desert, Dracula's Homeland (I assume this is Romania?) and finally the Kremlin itself. Even though the game is pretty much free for the player to go wherever he/she wants to, if the missions are not done in order, chances are you are not going to get far. That's because there's a little bit of strategy involved; you need to consider the amount of fuel you have, your ammo and prevent the enemy from calling reinforcements. How do you do that? Well, you need to scout for the enemy's radar systems and power plants, once you have neutralized those targets, the enemy will not be able to get early warnings of your presence in the area and will not know what hit them if you are fast enough. The AI has been much improved since the 16-bit days, as I mentioned before, the enemy will not only call for back ups but some soldiers will try to flee when they think that everything is lost for their side.
Missions have plenty of soldiers missing in action (MIA), locals and generals to be rescued. When you grab them, you will be able to take them to the different landing zones and in return your armour will be repaired. You will be receiving constant video and audio feeds reporting new events that occur near your position, regardless of whether you are there or not. Your actions will trigger different situations, so if you are thinking that the replay value is nill, you couldn't be more wrong. Last but not least, if you don't have enough space in your memory card, don't worry, good ol' Soviet Strike still has the password option available. Sweet!
The Strike series have for me at least, a certain charm that I have always loved, ever since that very first time I rented Desert Strike for my Genesis. It's unfortunate that they only released one game after Soviet Strike (Nuclear Strike) and then put the franchise to rest. I would recommend picking this game up if you are into the Strike series or flying games with a little bit of strategy where you can control a helicopter and destroy anything you want while minding some factors. If you are looking for a realistic simulator though, then this is not going to be your thing, go get a copy of Longbow for the PC instead. If you want classic 90's arcade action with fantastic FMV sequences then step on up folks!