Ground Control To Sega ROM
There's an old saying that goes a little something like this... "Go big or go home!" Wise words to live by if you ask us. With that in mind when it came time to leave other inferior websites and create something way cooler, an important decision needed to be made.
With an internet site so full of information and features on classic videogames and the characters in them it was vital to hire someone to keep all those personalities in check. Sonic, Mario, Crash, Link, Spyro, Dizzy & Rayman can get a bit diva!
After a few minutes discussion as to who would be RGG's mascot the choice was simple. Only the Master System's forgotten warrior had what it took to rule them all...
I Can Feel it Coming In The Air Tonight... Oh Lord!
When you think of things that are unfair with life you may often ponder about how many times companies like Sega have had amazing game characters and then literally left them outside in the cold. Alex Kidd, Opa-Opa, Kid Chameleon... Greendog? Thanks to that Blue Hedgehog a ton of the characters that helped make such consoles as the Master System and MegaDrive/Genesis the heavy hitters they were got ushered away, never to star in more sequels on consoles with the Sega logo on them. Sad face!
For one such Master System game figurehead, life just wasn't fair at all. Poor old Transbot only got 1 game and the worst part is that pretty much nobody even remembers it. The good news though is that when we were looking for a supreme overlord for RGG he was available. Be warned though, he's quite unpredictable... and possibly a bit mad! Which when you think about it means he's kinda perfect for us then.
On the 8th Day Machine Just Got Upset...
On December 22nd 1985, just over two months after the launch of the Sega Mark III console in Japan a game would be released that would go on to cause virtually no ripples in the waters of the gaming scene.
Presented on a Sega 'My Card' and known as 'Astro Flash' it was a scrolling shoot 'em up with a sci-fi setting. The story was set in the then future of the year 2000 where humans have ventured out from their bunkers after a nuclear war in order to rebuild society. Unfortunately an artificial intelligence known as DALAUS, left over from a defunt regime has begun to assume control over one city and is set on dominating the remains of the world. As the pilot of the CA-214 Transforming Astro Plane it was up to you to put a stop to this.
Rumoured for many years to be inspired or designed soley to cash in on the then very popular 'Transformers' cartoon, comic, film and toy range it's origin's are slightly deeper than this. Whilst cleary leaning towards 'The Transformers' this game is also a spiritual successor and sequel to a Sega SG-1000 game by the name of 'Orguss'.
Released as Transbot in North America in 1986 and Europe in 1987 was clearly an attempt to seize some sales because of the famous franchise but it's original name has nothing to do with the robots in disguise and when released in Brazil in 1992 it got it's third name, 'Nuclear Creature'.
Gameplay consisted of the player controlling the CA-214 Astro Plane and shooting waves of enemies whilst waiting for the 'Arm Carriers' to come along. At key points it was important to destroy an Arm Carrier and as the power up cycled through the letters A-G, pressing a button to stop it on the letter 'D' would mean that you could progress to the second level. At the end of that level a boss would appear and after it was defeated you would return to the first level and the game would repeat.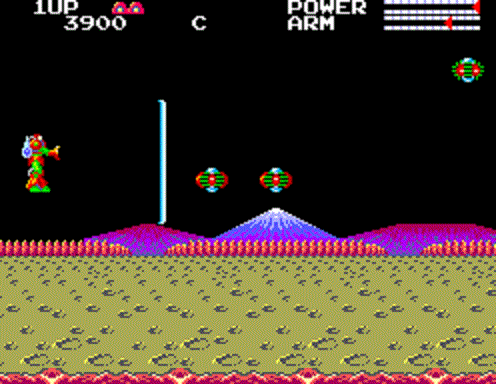 You're So Vain. You Probably Think This Song Is About You!
It was of course very normal during the 1980's and 1990's for many games to have differing box artwork, especially between those released in Japan and those released in the west. Transbot however was also subject to not just one name change depending on it's region but three. On top of that there were many variations of the actual cover artwork itself.
Not only were the covers very different between the Japanese 'Astro Flash' release and the western 'Transbot / Nuclear Creature' versions but Portugal even managed to get it's very own cover art display. Go Ronaldo and team! With a much fuller illustration and way more use of colour it is, for some, the best overall.
In western countries and the South American region the most common edition of this game came in a standard Master System cartridge form but in Japan and Europe Transbot was first released on the 'Card' format. These were small, made of heavy duty plastic and now bare a striking similarity to modern credit cards. Cheaper to produce they were primarily used for the smaller games that required much less storage space. Less than 10 Master System games were ever printed to card, naturally Transbot would be one of the games to make it. Transbot hates being left out of the party...
Every Little Step I Take, You Will Be There...
Since his glorious...and only, outing on the Sega Master System, Transbot has had an enourmous amount of time on his hands. He trained to be a vet, learned Chinese and was even rumoured to be considering a career in beer pong. In 2013, he opted instead to join the ranks of RetroGameGeeks.co.uk who tempted him to their cause with wild and crazy promises of fame and fortune and a never ending supply of free cake. One of those was true.
Coming from a game that never ever ended, Transbot was used to hardship and seeing the same old two levels over and over again. With that in mind Olly023 convinced him to break his Sega programming and venture off into the bigger, wider world.
Now our mascot, supreme overlord and Blockbuster Video Store Gold Card holder spends his free time invading other video games in order to see different sights, people, locations and creatures... and then blow them all away. Whilst he does this Olly023 tags along to document his adventures in screenshot form to both prove Transbot's incredible bravery and skills and also because Olly doesn't work on Tuesday's... and that's when Transbot does his best invasion work.
Transbot! The 2018 PC Remake... In HD!
After conquering the realms of Twitter, G+ and Instagram the RGG team set its sights on another way to bring a hero championed by the few back to the masses who so cruelly turned their back on it back in the 1980's. After many months of long winded philosophical debates about the meaning of it all and extension of self it was decided that in order to really bring our supreme leader and overlord back properly was to give him a nice spit & polish session. Ooer!
Enter the incredibly talented Kristian Hawkinson. A games industry veteran, amateur balloon animal maker, part time peacock breeder and hairdresser to the stars Kris... or CVGZ as he is also known stepped up to the plate! Over the course of several months and after taking a look at the original (top video) he set about brining Transbot up to date.
The result is a Windows PC game, made with Unity, that both captures the original feel and vibe but manages to triple the original games level length whilst ensuring that this time round you can actually finish it (the original just loops forever.) During it's development period Kris posted numerous making of videos including the video located next to this writing.
With the assistance from Ryan C. Meyer (Music), Javier Olazabal (Title Screen) and help from RGG team members with testing, manual translation and HD remake cover art, a new version of Transbot sits proudly on the website for you to download and play for free. We're nice like that. Click the button to jump to the 'Transbot Remake' page, download the game and have fun!!!